You can also view and print this guide as a PDF: MobLab Quick Start Guide PDF.
What is MobLab?
In the natural and physical sciences, students learn by doing experiments and experiencing first-hand how things work. MobLab brings interactive games and experiment-based learning to economics, management, and the social sciences in general.
Our suite of games allows instructors to setup, run, and monitor interactive games in minutes and access the data in real time. Students participate with smartphones, tablets, or laptops, either in or outside the classroom.
Getting Started Video 
How do I set up my Class?
Set up your class in minutes.
1. Register for an instructor account on our website www.moblab.com.
2. Choose New Class from the Class drop-down.

3. In the resulting window, enter a class name. If you have a license code, an institutional license code, or a discount code, please enter it. Click Create.
4. Invite students to join your class. From the Class drop-down menu, choose Roster then Invite Students. You can either paste a list of email address or upload a .csv file. 
The email will direct them to https://game.moblab.com/server/register.jsp, and will include your class code. A student needs this code to join your class. You can always find your code by choosing Class Code from the Class drop-down. 
If you want to see a sample of this email, try inviting yourself to your class!
5. Pat yourself on the back. 
How do I run a game?
We chose each game's default configuration to effectively deliver its primary teaching objectives. This means running a game is a snap.
1. We recommend grouping the games into playlists. For example, some instructors create different playlist for each topic, while others group by lecture or date.
2. To create a playlist, click the Playlist drop-down and then New Playlist. Give it a meaningful name, and note that students will see this name.
3. Add the game to the selected playlist. From the Library panel on the right, click on the game you would like to add. In the picture below, after clicking Bargaining, the instructor clicked Ultimatum. To add the game, either click and drag the game to the center panel, or just click Add.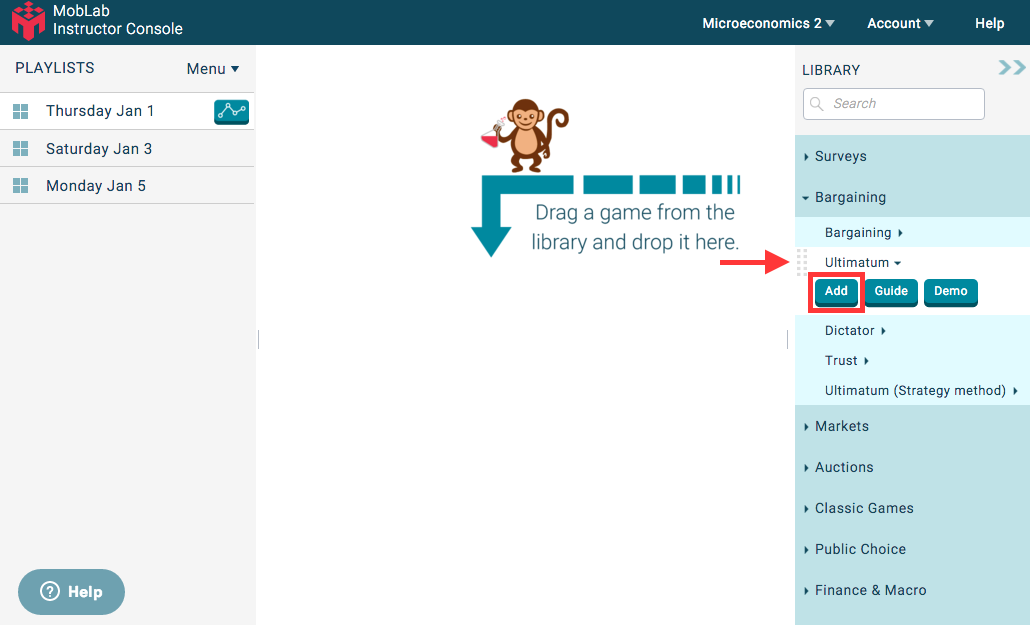 To help organize your games, it might be helpful to change the game name. Your students will not see this name.
4. When you are ready to run the game, just click Run Game.
5. Your screen will switch to the Monitor panel (see below), where you can follow the game's progress. Remember to take in the sight and sounds of engaged students.
6. Upon game completion, you can click Results to see game-play summaries.
What do I need to know about Group Size?
In a MobLab game, a student interacts only with those students in her group. For each game, we have carefully chosen the default group size - you generally will not want to change it. In almost all cases, the number of students participating will be larger than the Group Size.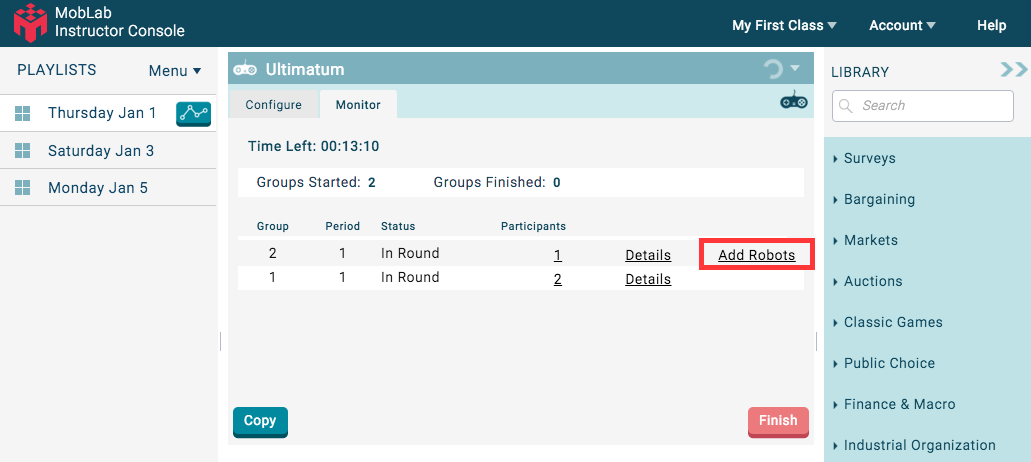 1. As students join a game, they are added to the current group. When the group fills, MobLab automatically starts a new group.
2. You can see the status of each group in the Monitor tab (see above).
3. In most MobLab games, an incomplete group cannot proceed past the game's initial stage. No problem! If the final group has too few players click Add Robots to complete the group with virtual players. 
What do I need to know about my students' perspective?
1. Students must register for MobLab student accounts and join your class using your class's Class Code before they can participate.
2. They can particpate with any internet-connected device (smartphone, tablet, laptop, etc) by logging in at www.moblab.com. iOS (iPhone and iPad), Android, and Kindle Fire users can alternatively use the MobLab app downloadable from the device's app store.
3. On game day, those students who log in before you start the first game will need to refresh their session list in order to join the game.
MobLab Contacts
Rachel Bodsky, Director of Customer Success
Email: rachel.bodsky@moblab.com
Skype: rachel.bodsky
Bob Gazzale, PhD, Senior Economist
Email: bob.gazzale@moblab.com
Skype: rgazzale
Questions?
Email us at support@moblab.com or call us at (626) 793-5070.