Once you have your account and have joined your instructor's class, it is a good idea to check that you can connect to our game server. Luckily, we've built a quick way for you do to so!
To test if you can access our game server, select the Meteor Game just under Active Playlists. This will allow you to play a short, one-person game.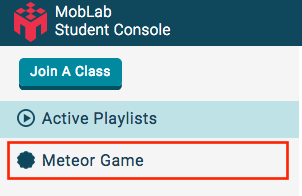 If you can sell insurance on Mars, you should be ready to go when your instructor plays a MobLab game.
If you find the game does not load properly, email us before your class at support@moblab.com and we can troubleshoot with you.