A curated suite of MobLab modules, games, and surveys is now available to secondary school teachers in Switzerland via iconomix - an educational platform provided by the Swiss National Bank.
How to get Started
We recommend you first review iconomix' module page on MobLab. Below are six steps that help you to get started using MobLab games and modules through iconomix:
1. Login to MobLab via iconomix
Iconomix users can directly sign in to MobLab with their iconomix account without registering for a separate MobLab account. In case you have already registered for a MobLab account, please contact support@moblab.com.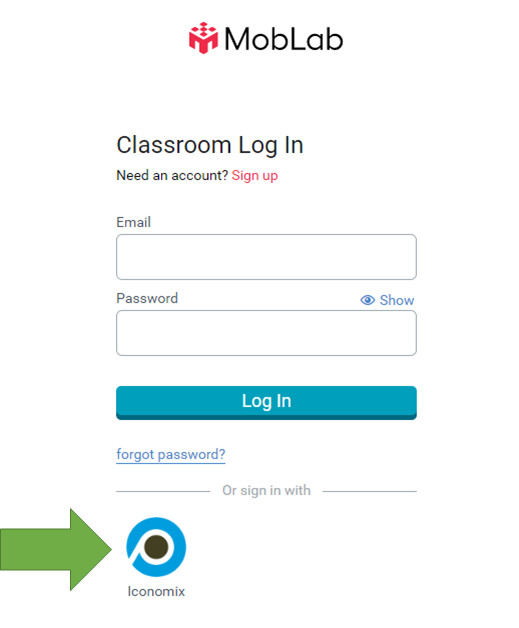 2. Your MobLab Classes
You can organize your account in so-called MobLab classes. We recommend that you create a new MobLab class for each of your school classes. Every MobLab class has a unique class code that you will need to share with your students so that they can join it (more information in the next section).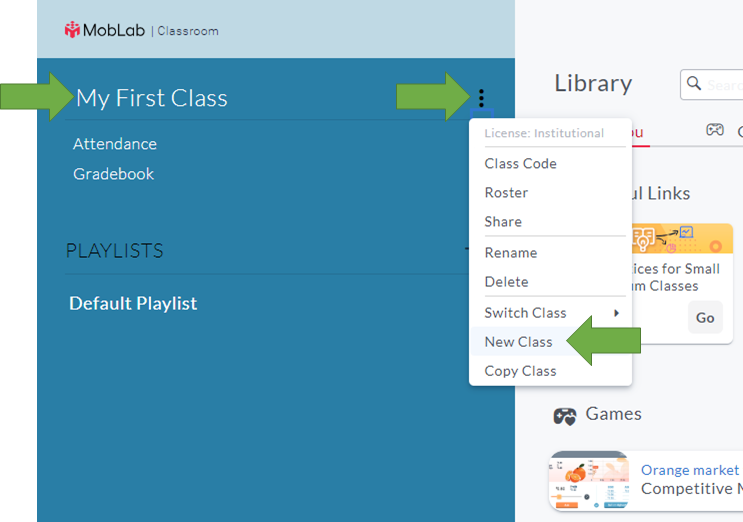 3. How to Invite Your Students
When you use MobLab for the first time with a school class, the students need to:
download the MobLab app on their mobile device
register for a MobLab student account
join your MobLab class with the class code.
Attached to this article is a template in word.doc format that explains all these steps (scroll to bottom). These 3 steps can take up to 5 minutes. To save time, we recommend that you use the template mentioned and give it to your students as a homework before the day you use MobLab for the first time. Please do not forget to insert the unique class code of your MobLab class into the template.
4. Adding a MobLab Game or Module to a Playlist
Once your students have joined your MobLab class, they have access to any activity you make available. Activities are organized in so-called playlists. If you are using MobLab for the first time, we recommend that you add one of our pre-built iconomix modules to a new playlist. A module is a sequence of activities, such as games, games, quizzes and surveys, etc. on a specific topic that are meant to be run in order (top to bottom).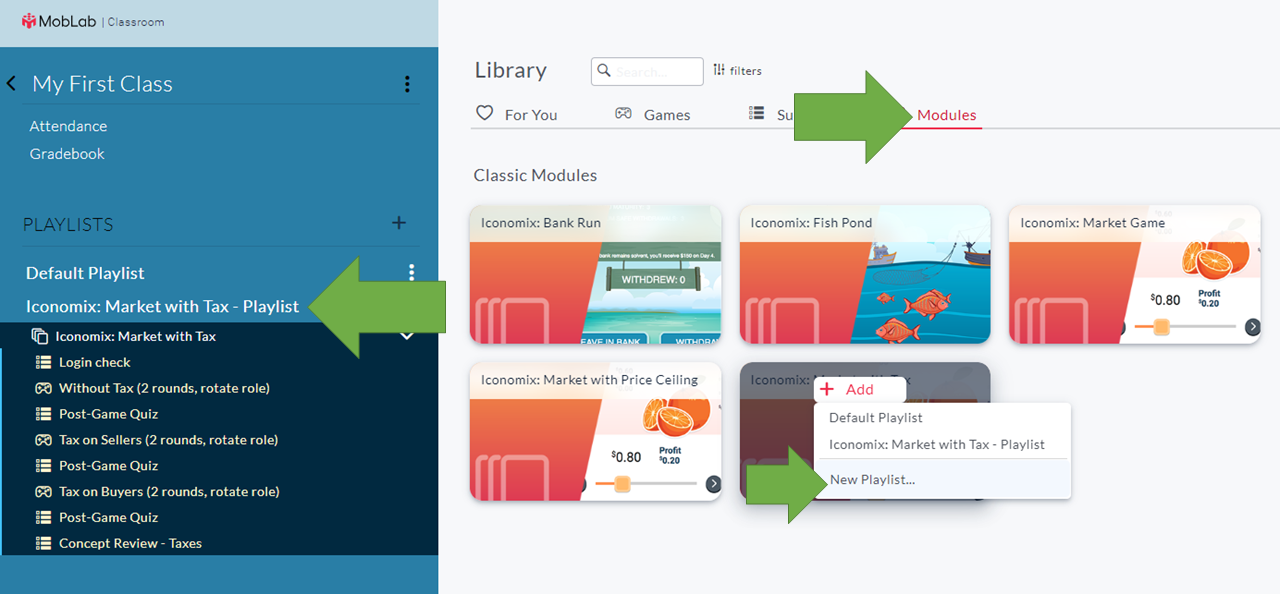 5. Activity Configurations
All games and modules come with pre-configured settings and parameters selected by our team of economists. However, it is also our goal to give you as much liberty to customize these settings and parameters according to your specific teaching objectives. Please view this article to learn more about MobLab's configuration options.
6. Running a MobLab Activity in Class
We recommend you use the preview mode or your test student accounts to play and test the game by yourself before running it with your students. Watch the video below to see how you can use your test student accounts.
When you're ready to to run an activity, click Open Activity. This opens the Playlist and students will be able to join.

To start the game, press Begin on the subsequent pop-up. There is no need to wait for all students to join the playlist before beginning the game as they can join once the game is running.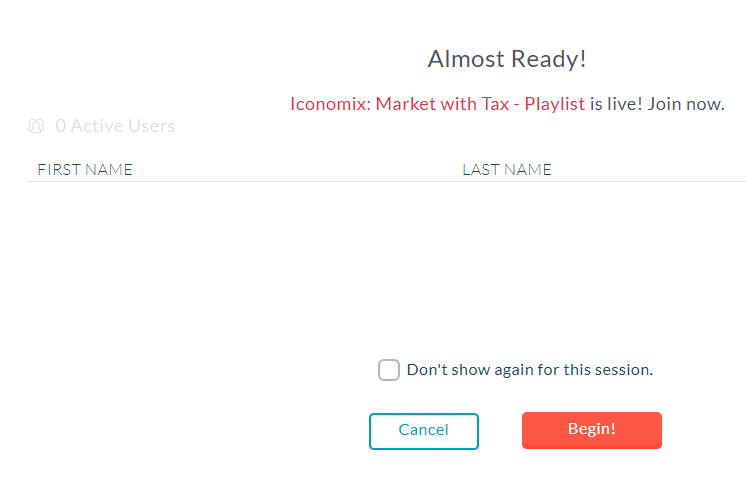 Students who have already joined the session will automatically be grouped together and their games will be started. Any students who join after you press the Begin button will be placed into the last unfilled group.
Once the game is started, your screen will switch to the Monitor panel (see below), where you can follow the game's progress and add robotic players to the last unfilled group. Here you can also see how much time is left in the game, which groups have finished, who is in which group, and the details of each group.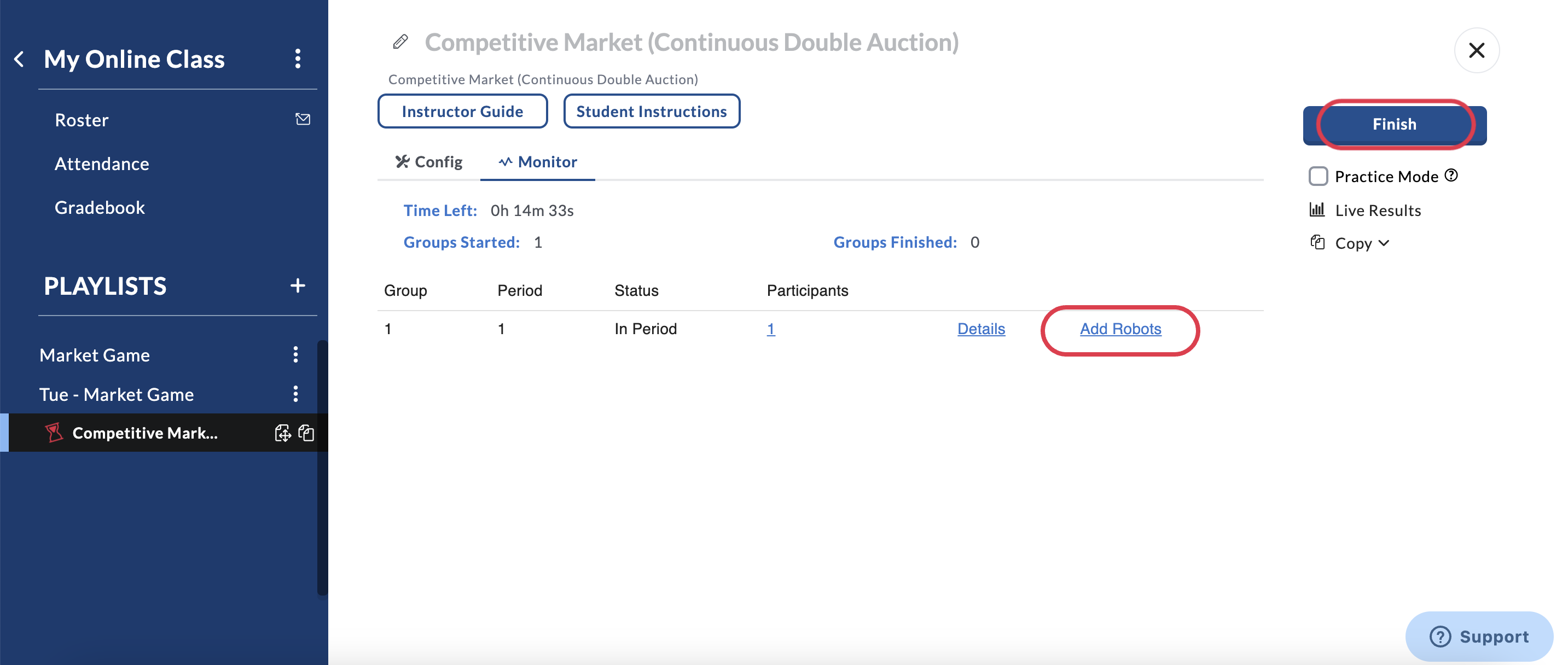 The game will end automatically when the timer runs out, but you can also finish a game early when most or all of the groups have a Finished status.
7. Activity Debrief
Once a game has finished, you can review the game Results and the game Scoreboard. You also have the option to Download the anonymized game data and performance data.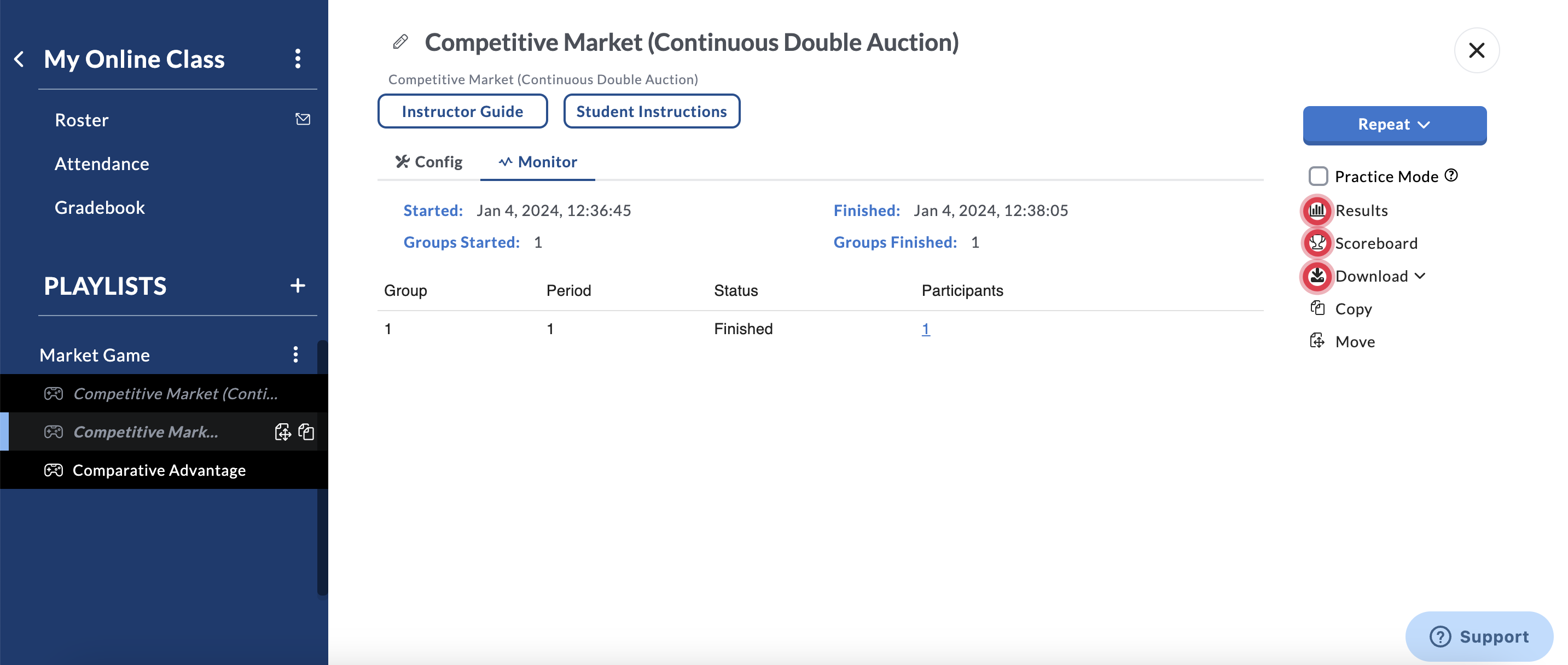 Clicking Results will open a separate window displaying game-specific graphs and breakdown tables. Review the game results with your students to show them trends from the class and how their behavior compares to theoretical predictions. And if it's part of your plan, launch the Scoreboard to show off the high-scoring students to encourage some competition!
Once a game has been played, you may copy or replay the game.
The Student Experience
Students join an Active Session by clicking on the session card with the game name. They will only see an Active Session card for activities that have been started.

If there are no active sessions, students may refresh the student console once a session has been activated.

Upon joining a game, students will be randomly matched with other students to start playing. Remind your students to watch the timer and submit a move within the time limit!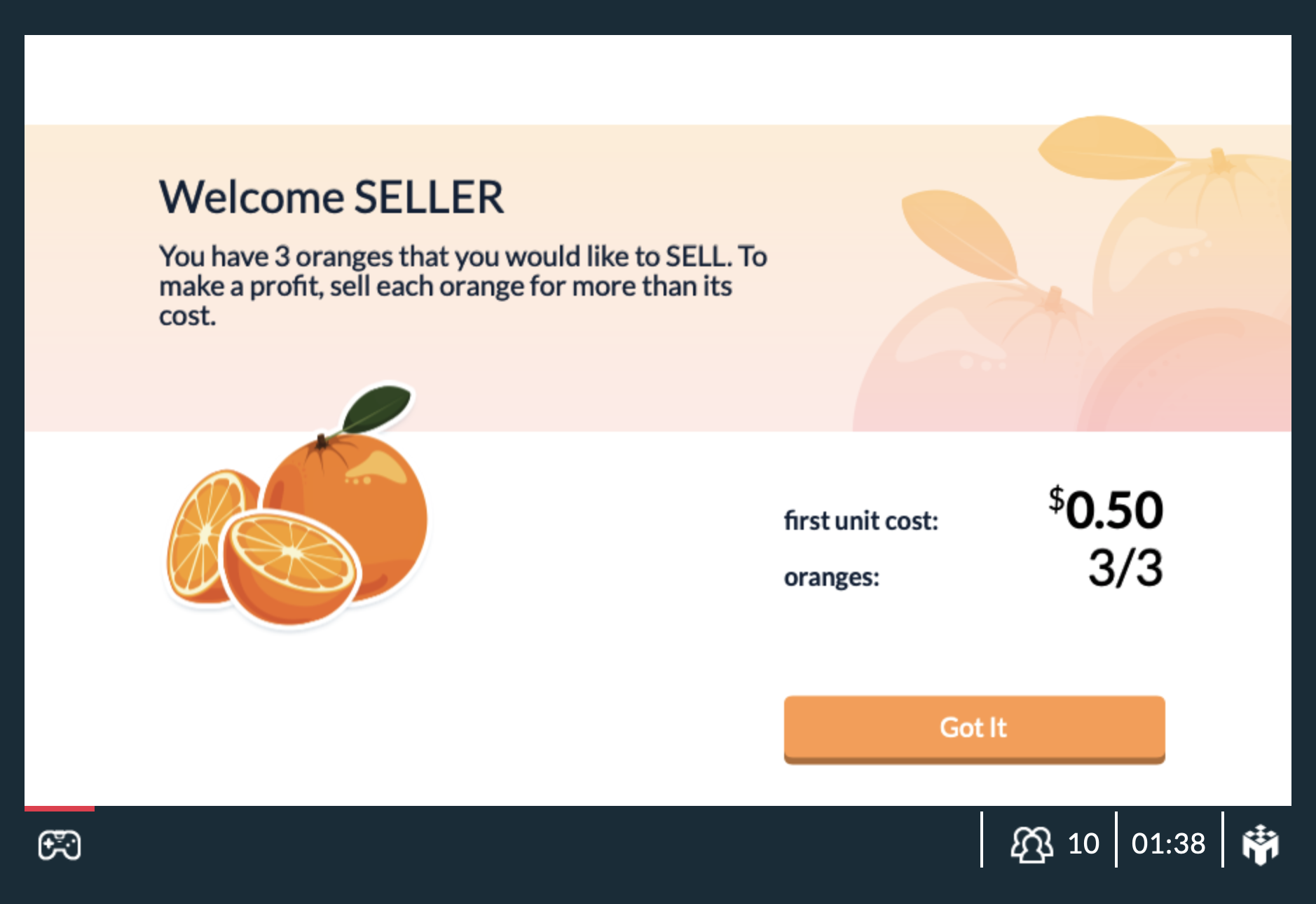 If an instructor has clicked Run Game but not Begin, then students will see a waiting screen: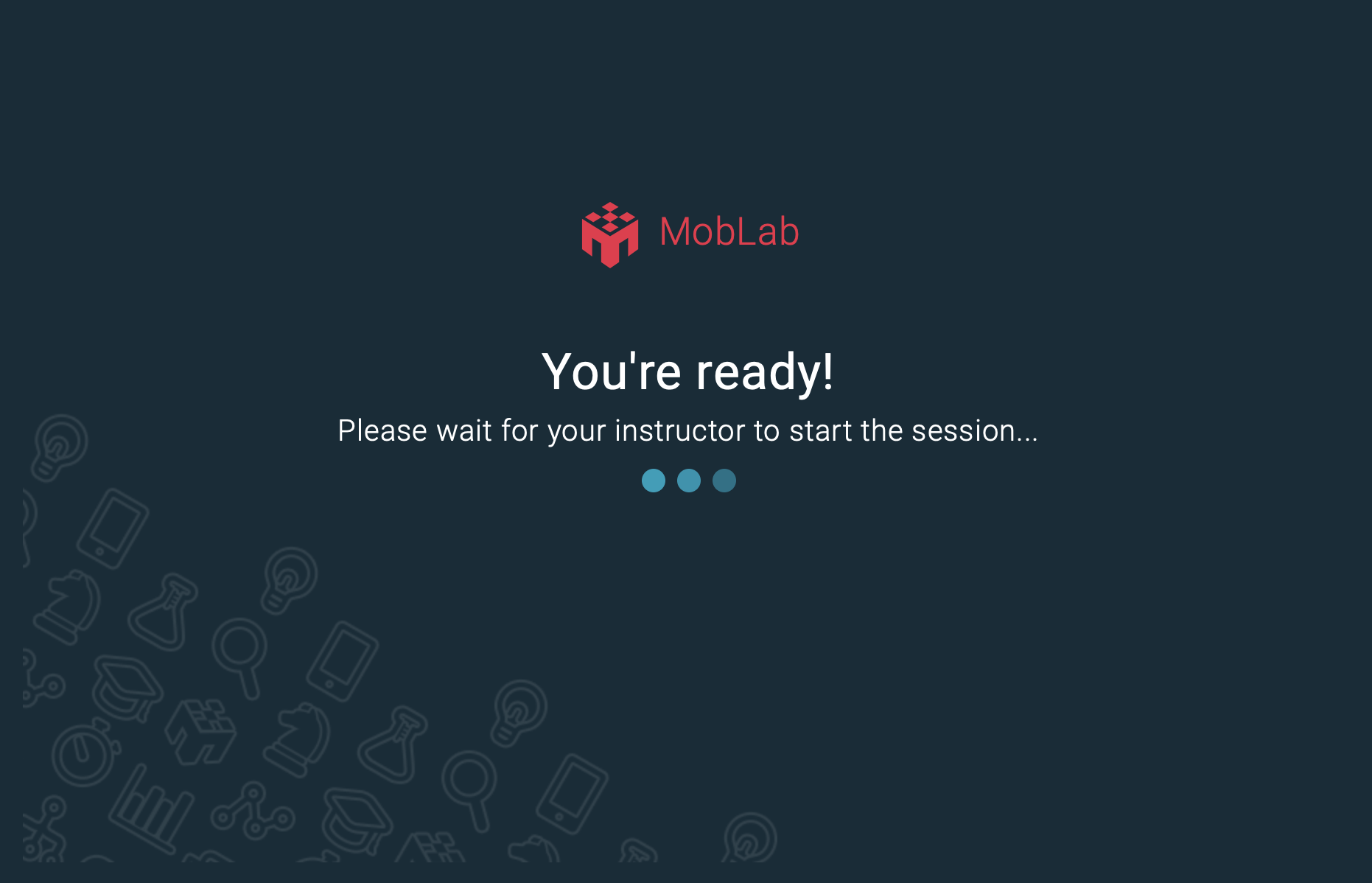 They can stay here and their screen will automatically refresh when the game or survey begins.
If a student gets logged out or accidentally leaves a game, they can rejoin the session anytime by clicking on the Active Session card.
Support
Please contact support@moblab.com for any MobLab-realted questions.