MobLab brings interactive games and experiment-based learning to economics, management, and the social sciences in general. Our platform allows you to setup, run, and monitor interactive games in minutes with access to data in real time. Students can participate with smartphones, tablets, or laptops, either in, or outside, the classroom.
---
---
How do I set up my Class?
2.
Create your class
. Select
New Class
from the Class drop-down. Name your class in the resulting pop-up and choose how MobLab will be paid for. If your institution has paid for MobLab, please enter your license code here. Otherwise, choose to create a
Default
class which will require students to pay for their license or redeem a student access code bundled with a textbook. Click
Create
.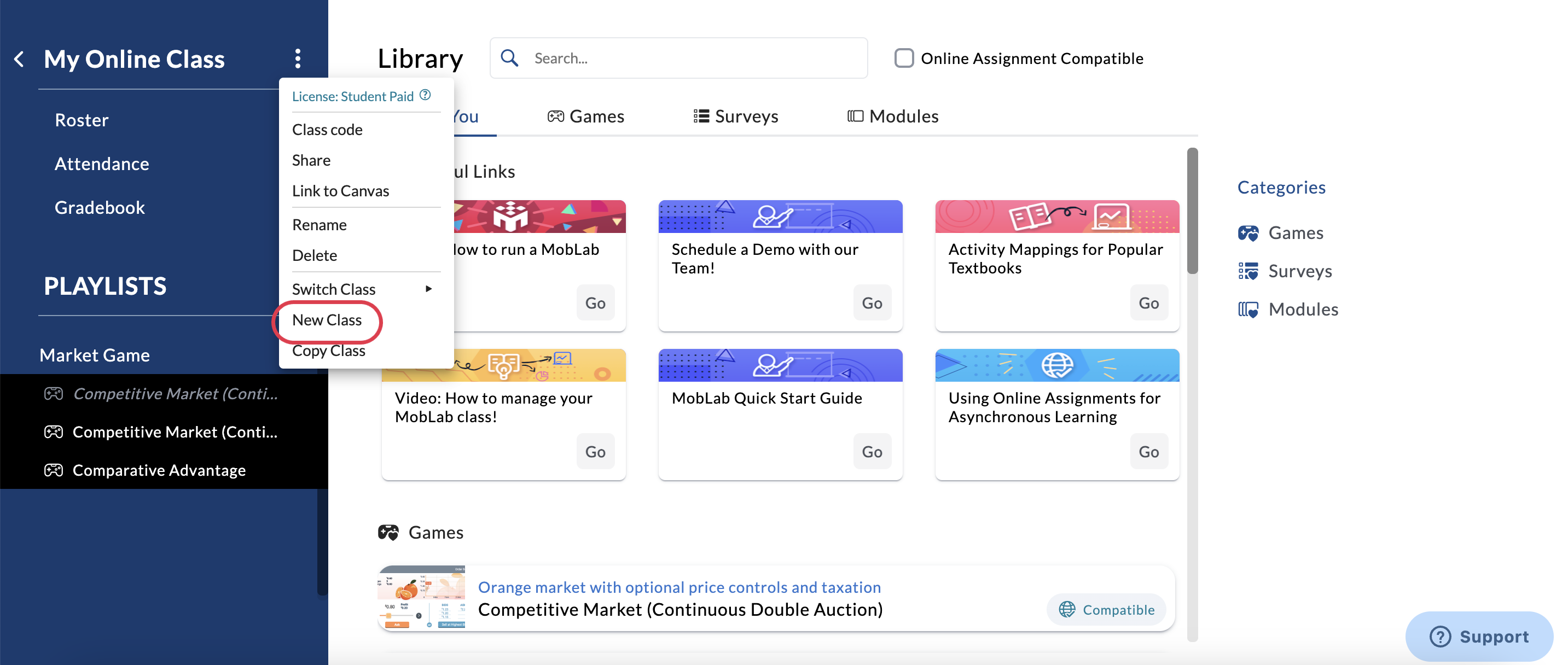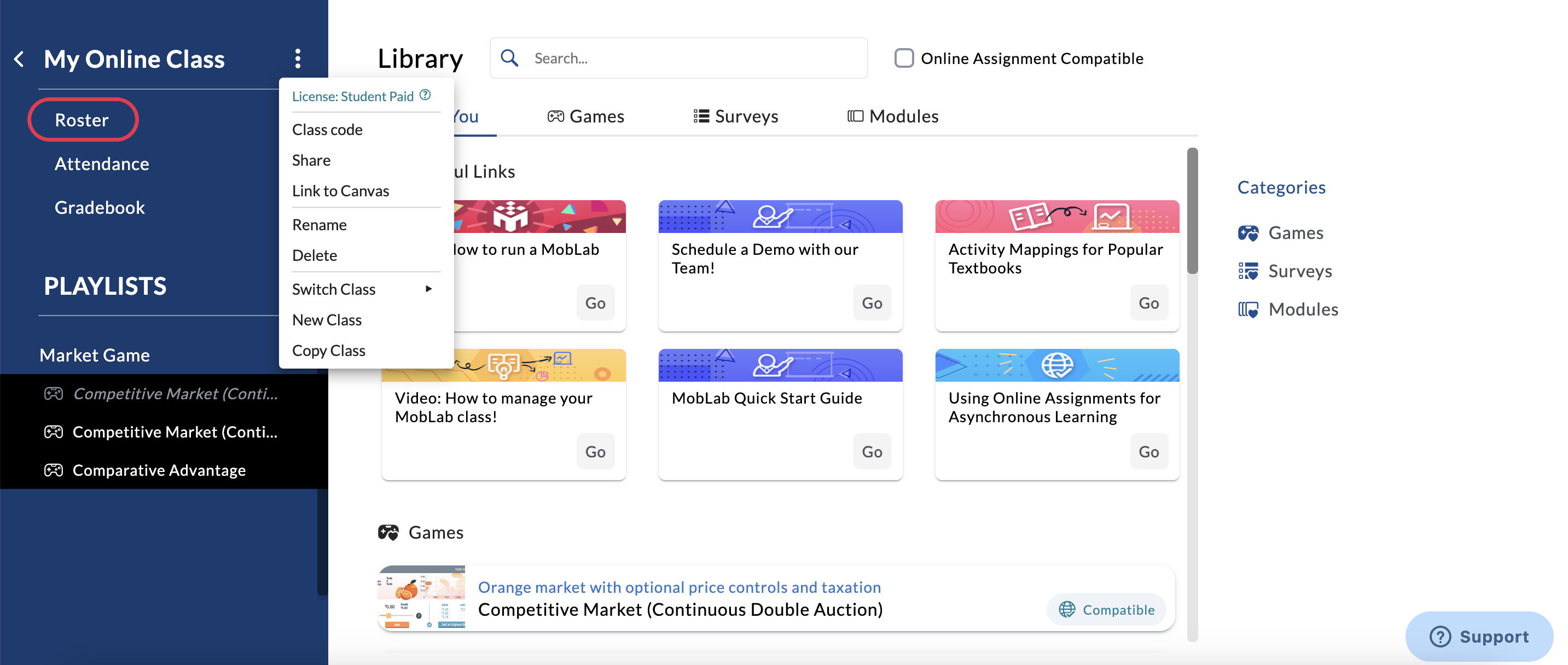 Games can be played either in class or scheduled as Online Assignments
1. We recommend grouping the games and surveys into
playlists
. For example, some instructors
create different playlist for each topic, while others group by lecture or date.
You may select to make this playlist a traditional In-Class activity or an
Online Assignment
.
2. Add games, surveys, or a complete module to the selected playlist. From the Library panel on the right, click on the game you would like to add. To add a game, either click and drag the game to the center panel, or just click
Add
.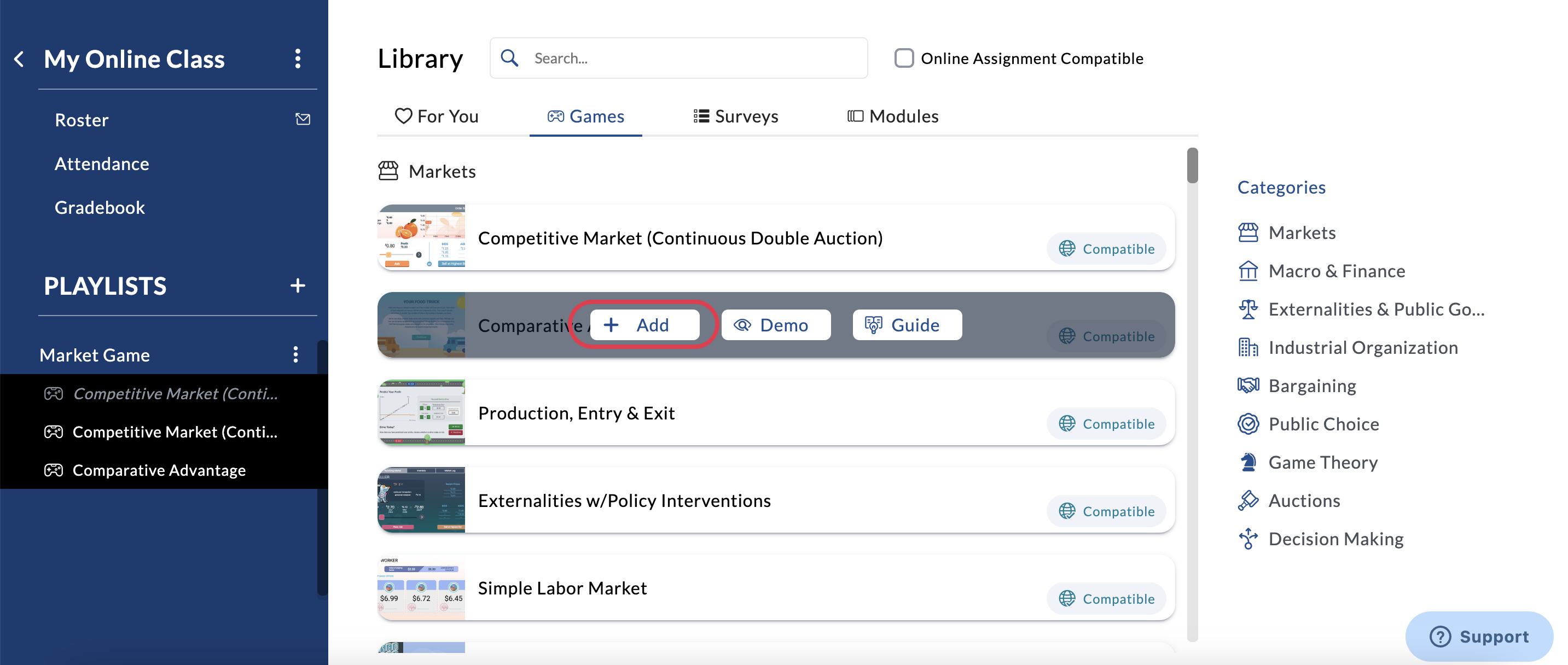 3. When you are ready to run the game or survey, click
Open Activity
. This opens the Playlist and students will be able to join.
4. To start the game, press
Begin
on the next pop-up window. There is no need to wait for all students to join the playlist before beginning the game. Students can join once the game is running.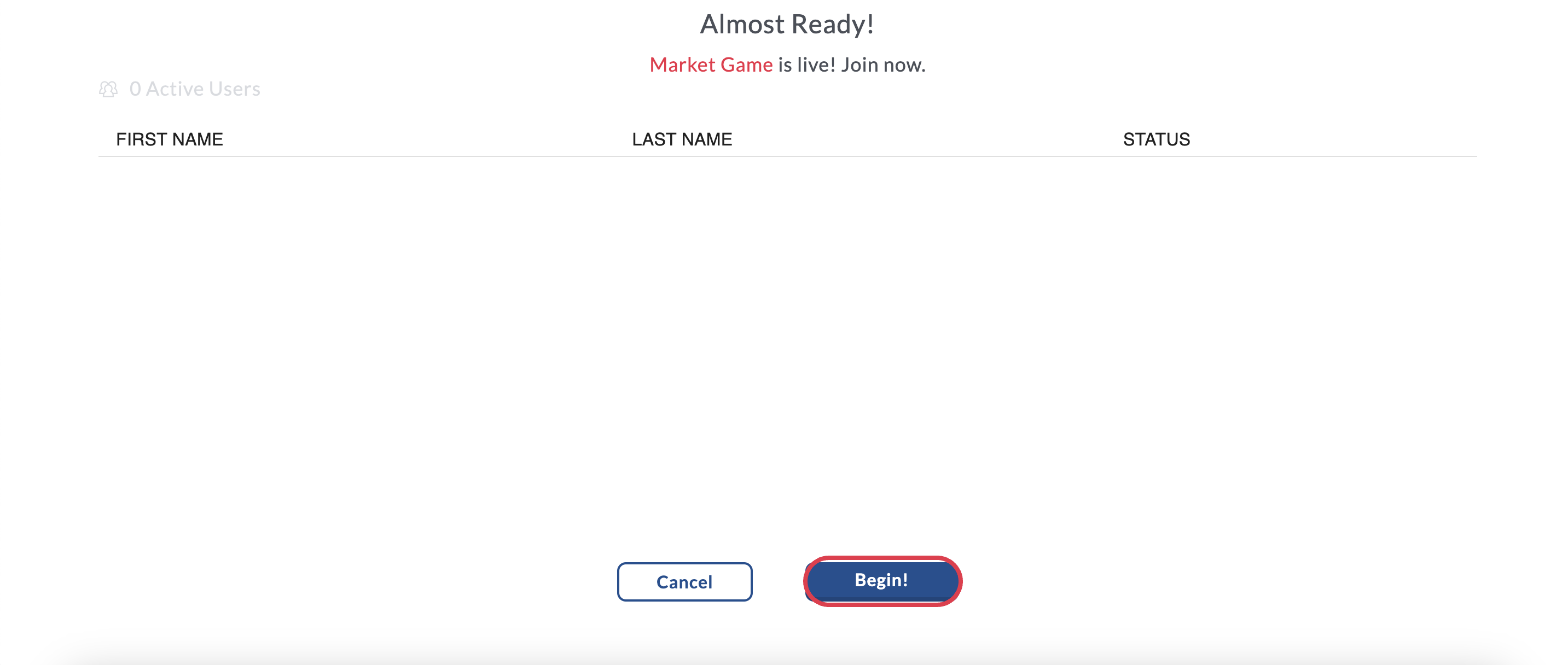 5. Your screen will switch to the Monitor panel
(see
below). You can follow the game's progress, add robots to unfulfilled groups, and preview game or survey results.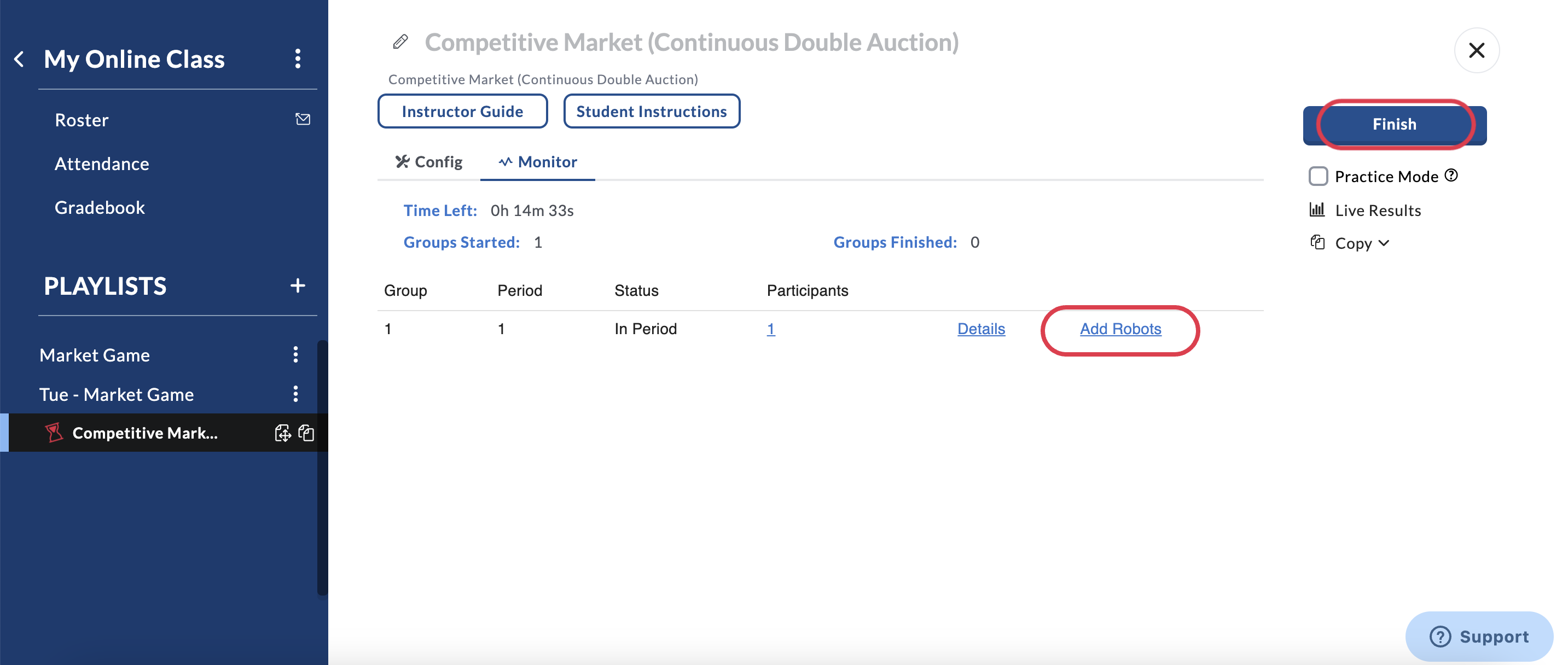 6. Upon game completion, you can click the
Results
icon to see game-play summaries.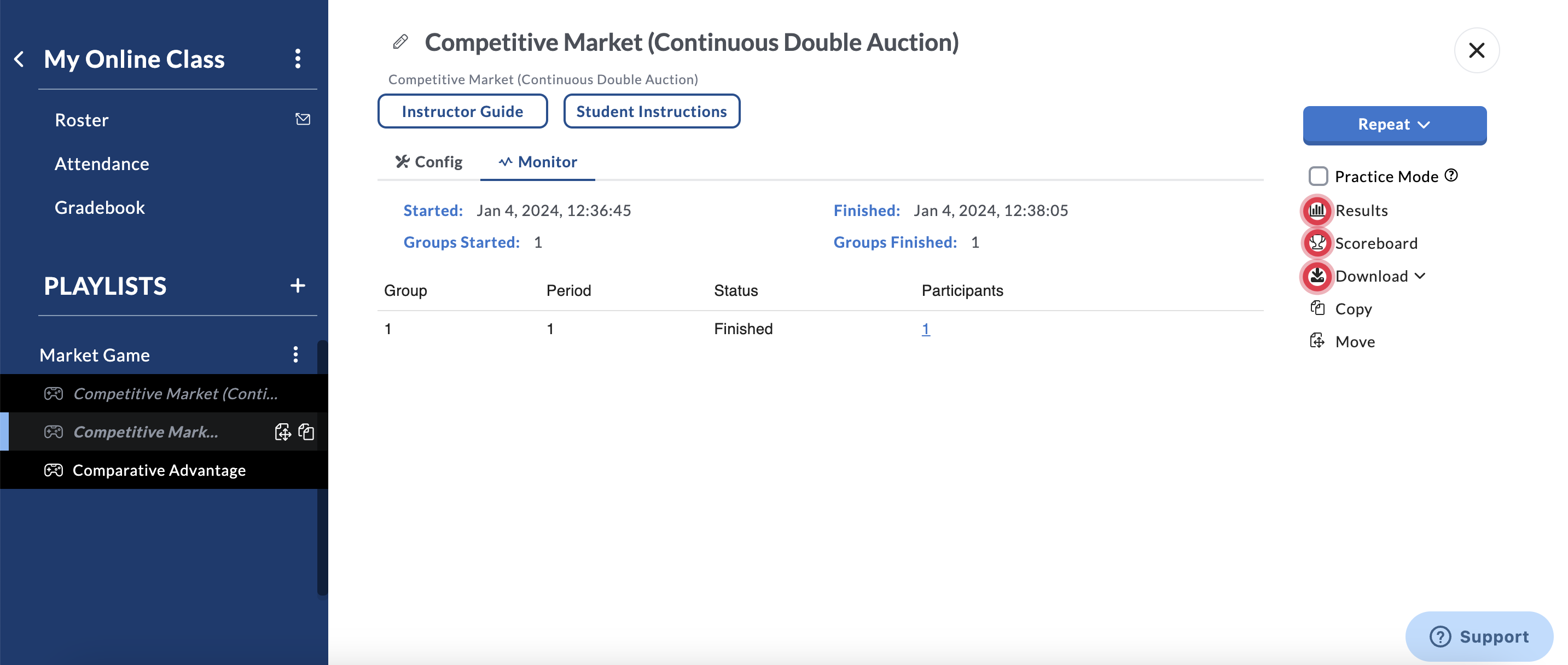 ---
Click
HERE
to setup online homework assignments in MobLab.
---
What do I need to know about Group Size?
In a MobLab game, a student interacts only with those students in her group. For each game, we have carefully chosen the default group size - you generally will not want to change it. In almost all cases, the number of students participating will be larger than the Group Size.
As students join a game, they are added to the current group. When the group fills, MobLab automatically starts a new group.

You can see the status of each group in the Monitor tab .

In most MobLab games, an incomplete group cannot proceed past the game's initial stage. No problem! If the final group has too few players click

Add Robots

to complete the group with virtual players.
What do I need to communicate to my students?
Students must register for MobLab student accounts and join your class using your class's Class Code before they can participate.

They can participate using their desktop or laptop browser

(we

recommend Apple Safari, Google Chrome, Microsoft Edge, or Mozilla Firefox) by logging in at

www.moblab.com

. iOS

(iPhone

and iPad) and Android

(smartphone

or tablet) users will need to use the MobLab app downloadable from their device's app store.

On game day, those students who log in before you start the first game will need to refresh their session list in order to join the game.
Check out the list of
tips and best practices
composed by MobLab power user, Robert Gazzale
(University
of Toronto).