If class time is limited, you can run MobLab games and surveys outside of class. Games can be played synchronously or asynchronously. To schedule a game or series of games outside of class, build your playlist according to how you would like your students to play through the games and/or surveys.
When your playlist is ready, click on the menu next to your playlist name and select Schedule to launch the playlist scheduler. 

The playlist scheduler allows you to choose the day and time to start the playlist. The scheduler will also tell you the current runtime of your playlist. In the example below, we have scheduled the playlist named "Thurs, Jan 1" for Monday, Feb 12 to start at 6pm.  The games on my playlist will be played in order and will take a total of 15 minutes.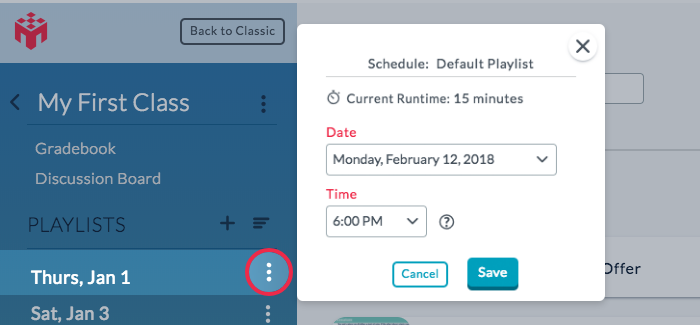 Once the playlist is scheduled, a green checkmark will appear next to the playlist name, as shown below. You can always modify the start time of playlist and you can reschedule a playlist that has been previously run so long as there are unplayed games on the playlist.